PGI(Propylene Glycol Industrial Grade)

Product Overview
Propylene Glycol Industrial Grade (PGI) from Dow is an important intermediate in the production of alkyd resins unsaturated polyester for paints and varnishes. It is the preferred propylene glycol for manufacturing high-performance, resins for many uses such as:
Reinforced plastic laminates for marine constructionGel coatsSheet molding compounds (SMC)Synthetic marble castings

Propylene glycol is also used as a solvent in printing inks, as a preservative in floral arrangements, and as a stabilizer in hydraulic fluids.
Applications

Unsaturated Polyester Resins(UPR)
UrethanesCoolants and AntifreezeAircraft
Deicing FluidHydraulic and Brake Fluid
Heat Transfer Fluids
Paint and Coatings
Other Applications
Packaging
PGI is available from Dow in various quantities. Please contact us for details on availabilities in your region.
Physical Properties*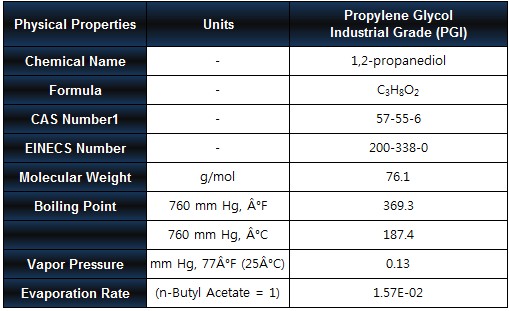 PGI
Download related file:

PG Industrial
Back to List